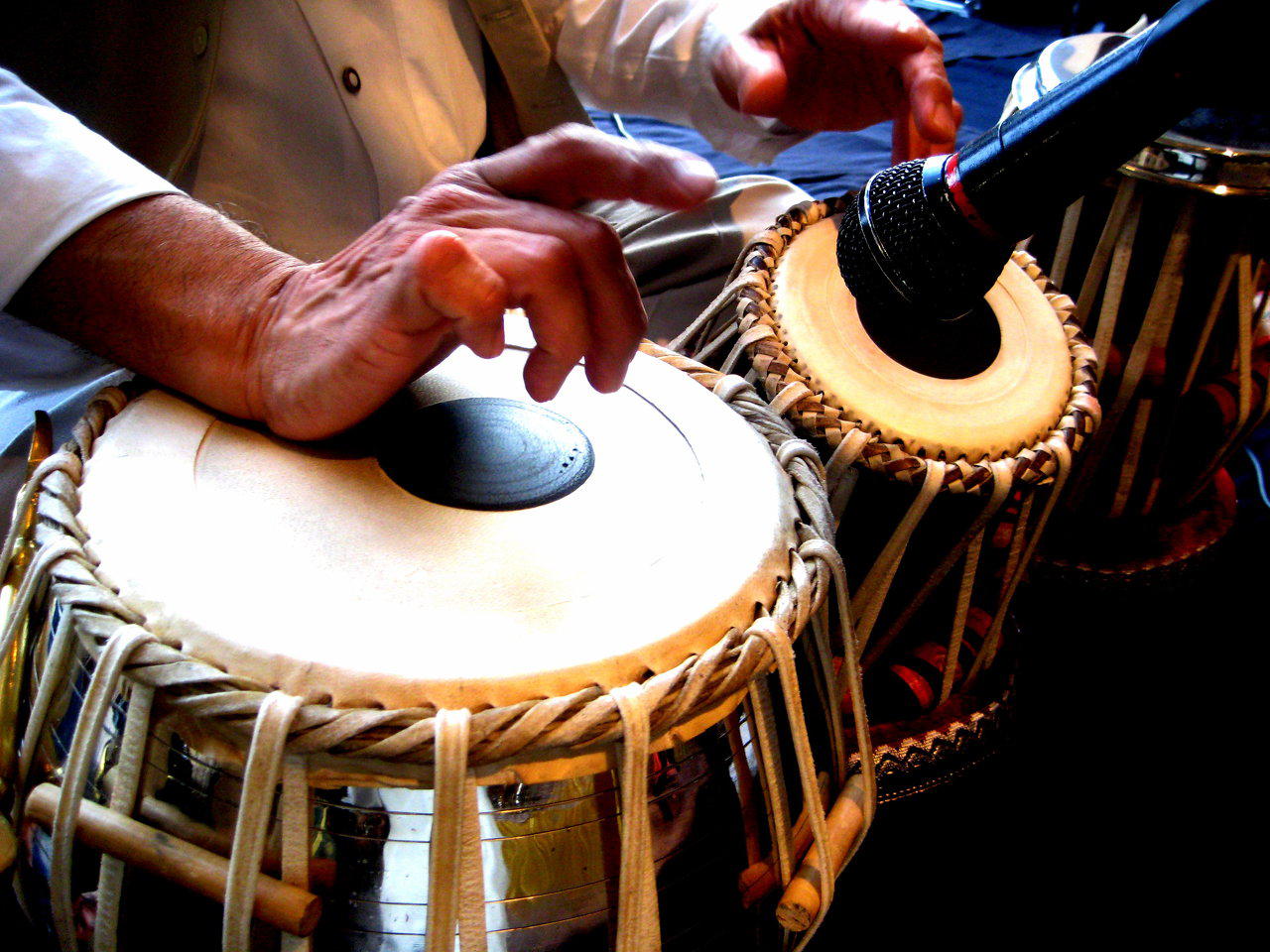 The tabla is a membranophone percussion instrument, which is often used, in Hindustani classical music. The instrument consists of a pair of hand drums of contrasting sizes and timbres. The most common historical account credits the thirteenth-century Indian poet Amir Khusrau as having invented the instrument, by splitting a Pakhawaj into two parts. The main drum is called a tabla or dayan and is played with the dominant hand. Its shell is cylindrical and made out of wood, and its tight skin produces a distinct pitch when struck. The larger low-pitched drum, called bayan, has a bowl-shaped metal shell. Its membrane is looser than that of the tabla, enabling the player to manipulate the drum's pitch in performance. The heel of the hand is used to apply pressure in a sliding motion on the larger drum such that the pitch is changed during the sound's decay.
Apart from classical music, the tabla has made its mark on devotional, theatre and of course film music. It is a much sought after instrument in cross-cultural and fusion musical experiments. Hindi pop music and Bollywood soundtracks make extensive use of the melodic tabla. The tabla's sophistication and charm has attracted the attention of scholars, musicians and music lovers around the globe. The playing technique is complex and involves extensive use of the fingers and palms in various configurations to create a wide variety of different sounds and rhythms, reflected in mnemonic syllables.
The tabla exemplifies two spiritual teachings. When the tabla's membrane is felt, either before or after a performance, its vibrations speak of the celestial realms that music is derived from. When the tabla's membrane is struck, its sound exemplifies the earthly realms in which music is a part of. Thus, through the teachings of the Vedic hymns, music becomes the spiritual discipline, which will beget an important self-realization.
https://en.wikipedia.org/wiki/Chinese_orchestra https://www.sco.com.sg/sco/singapore-chinese-orchestra/